10/02/2020
September Monthly Report
Autumn is always the rainy season. BetFury's rains pour out winnings, staking, events, and cool updates.
If you've been with us the whole month, you probably know how many cool things happened at BetFury. If you have joined us recently you can be sure that we never sit still. The BetFury team is constantly working to make the platform as good and easy to use as possible. So that every Betfurian can enjoy the game and earn money!
Watch what peaks Fury has reached in September!
Staking
The Staking pool is pleasing in its size and stability. Staking pool has increased by ~21 BTC this month.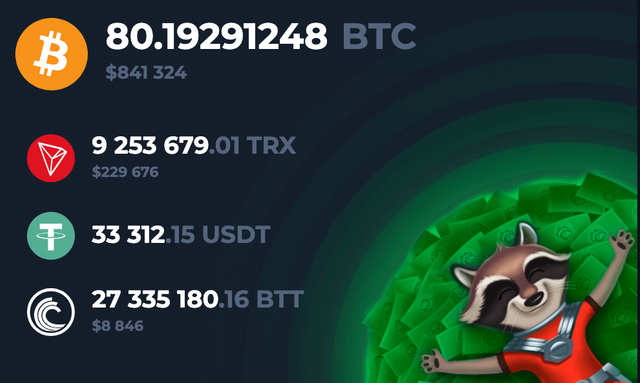 Staking are paid steadily! And this is confirmed by the historic event at BetFury.
For the first time, the staking Daily Payouts were over 2 BTC.
~56 BTC were paid out during this month.

The biggest BFG bonfire on BetFury - the jubilee 10th BFG Token burning!
Mining Price was raised
You know how important it is to own BFG tokens because every month the price rises and the token becomes more expensive.
So this month Mining Price grown up as usual. Mine more tokens now to then enjoy their value.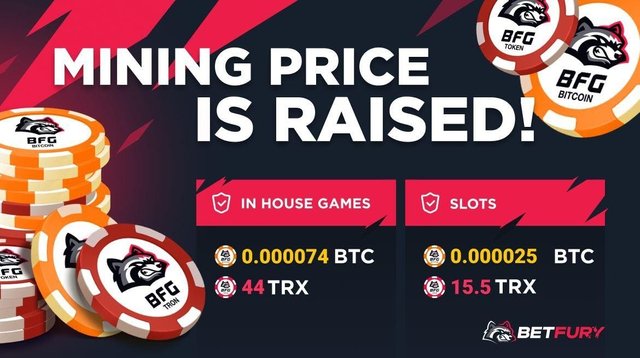 Current Token Details:
Total mined: 1 715 790 736 BFG
Total staked: 1 452 257 495 BFG
Burned: 180 167 821 BFG
BetFury Events
Every day there are important events at BetFury and we want to share all these events and news with you.
Any updates or creation of new games, awarding prizes to the winners of competitions - everything is done with love for you, Betfurians.
Crash Space War
You have been waiting for a long time for the launch of the updated Crash. And this happened!
The bravest 50 Jedi shared 0.5 BTC in the Crash Space War.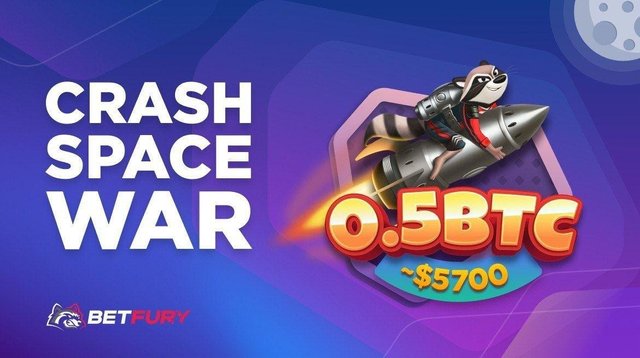 BetFury Battles
This is a new format of events with thrills and gives indecently large rewards. Taste the victory of the real fight in Battles. New feelings, new emotions, and most importantly new great victories are waiting for you.
The first Battle took place at KENO for 24 hours with a prize pool of 0.1 BTC (~$1000) for 50 skilled players.
Follow our social networks not to miss further Battles.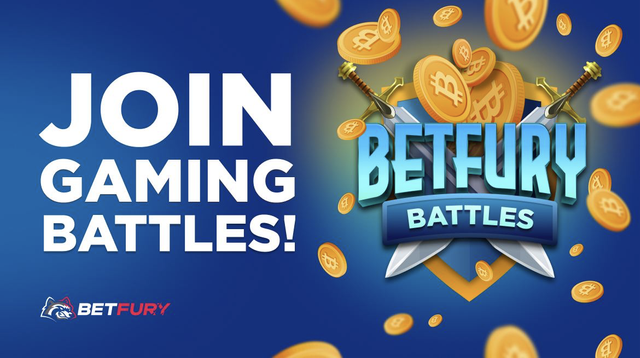 New Gaming Provider and many new cool Slots
Provider MrSlotty has come with gifts for you. He brought a bag full of 50 Slots. Place bets and win the biggest winnings in any currency: BTC, TRX, USDT, BTT.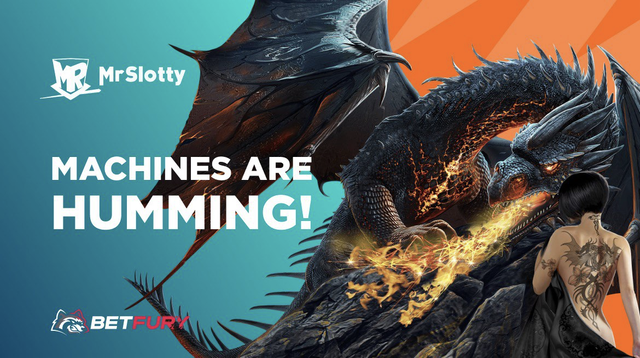 The Kings of Success have replenished their chests with 40 new slots and more than 30 Table games.
Catch your luck in the best games from Platipus, Spinomenal, Playson, ReelNRG, Endorphina, Booongo, Tom Horn, Fugaso, GameArt, Habanero.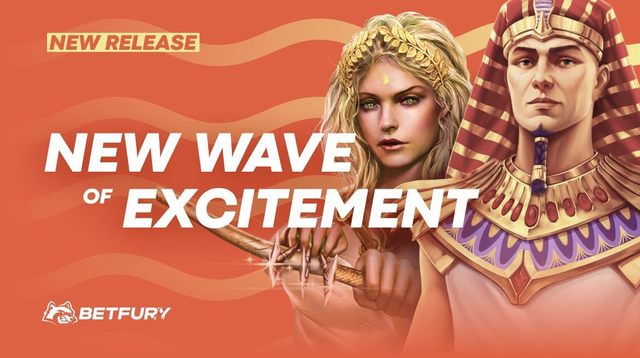 BitcoinTalk page is updated
Now you can chat, leave reviews and learn much news about BetFury on our page in BitcoinTalk.
Welcome to the updated page with new features. Soon there will be the Grand Bounty campaign with big awards.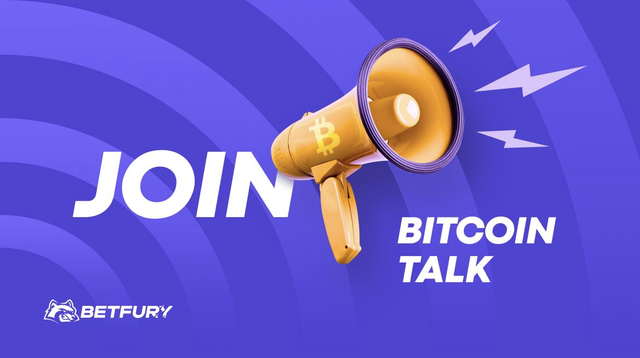 BetFury BOXes
Boxes are sold like hotcakes. This month 3 Boxes were sold out:
Ruby Box — Price: 0.001BTC | Monthly Rate: 15%
Emerald Box — Price: 0.01BTC | Monthly Rate: 11%
Sapphire Box — Price: 0.05BTC | Monthly Rate: 12%
1000 Key Boxes were sold out at the price of 0.0001 BTC with a Monthly Rate - 50%.
All players who bought the Key Box have a chance to get the last part of the key to the wallet with 0.5 BTC. Bitcoins are still in the wallet.
Watch the cartoon and find all the tips where the parts of the private key. Withdraw cash from the Key Box and catch a pop-up with the last bit of the private key to the Bitcoin wallet. Collect all parts of the key and open the wallet first.
Hurry up! The search becomes more intense!

However, now you have the opportunity to buy a new Amber Box at a price of 0.005 BTC with Monthly Rate - 10%.

Oktoberfest moved to BetFury
The loudest autumn event is now celebrated at BetFury. Brewers pour beer from all slots. You can still join the festival and spin slots for mega prizes.
Oktoberfest 2020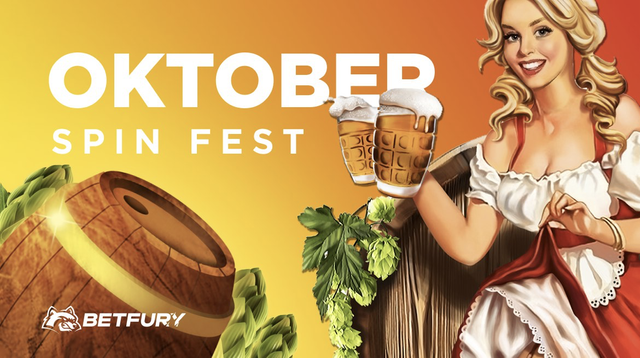 ReelNRG tournament
The Knights spun slots from ReelNRG in a big tournament. The €1000 prize was shared between 20 knights. The players competed in all stages and only the bravest reached the final.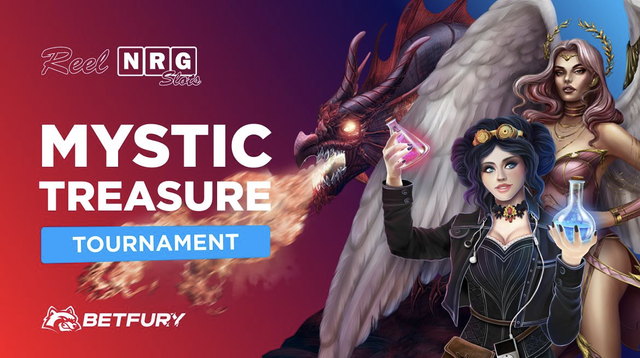 Rewards
Betfurians filled their pockets with prizes from Weekly Events, Giveaways & Big Wins.
💰 Chat Success took place five times this month, which means that 250 winners received prizes.
Total amount = 25 000 TRX.
💰 Twitter Success rewarded players twice - 200 lucky people received 40 mBTC in total.
💰 Slots Race for 777 mBTC has gained momentum four times to reward riders. 200 fastest winners reached the finish line. The total amount of monthly payouts ~3.1 BTC
Roll up! A new circle has already started.
💰 There are more and more Big Winners and Big Wins are proof of that. The total amount of Big Wins this month - $418 540
💰The September cloud of Giveaway scattered various awards. Fury held 6 Giveaways! The largest took place on Instagram in honor of 1000 Followers. Join also and don't miss the Giveaway.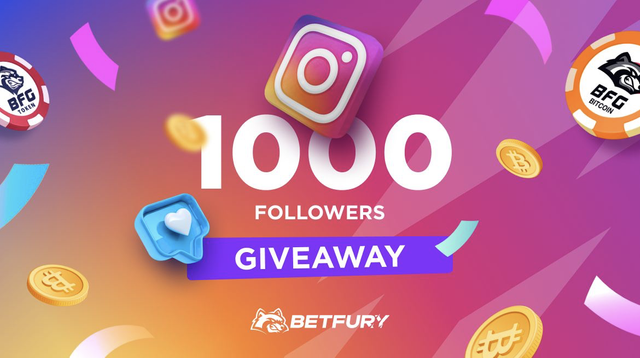 Live Streams
Nothing shows the authenticity of a real game like Live Streams. Big wins live, test drives on new slots, visits to real casinos, and a lot more can be seen in a Live Stream. Three cool streamers @badj0ker, @TronWarrior420 & @CEOofNEGATIVITY showed the best games and won in front of the audience during 13 broadcasts.
Community
Follow all events and updates of the platform on social media pages. Be the first one to know all the news. Join the big BetFury family and have fun to the fullest.
Telegram Channel - 10.5K
Telegram Chat - 26K
Twitter - 44K
Instagram - 1.2K
Planned Updates
🌛 New In-house game
🌛 New slots
🌛 New Boxes
🌛 More currencies
🌛 Huge Bounty
Summary
The month was full of hot news. Big Wins and many awards filled you with emotions. Staking pools have risen and give sensational payouts.
The BetFury team with Commander Fury is ready for new accomplishments for you. So play, enjoy the wins and follow the enchanting novelties. You will definitely like everything!